If you have to have an expensive medical procedure or illness that isn't covered in full by your medical aid, gap cover can make up the shortfall.
Medical care is expensive, and many healthcare practitioners like specialists charge higher rates than medical aids are willing to pay. Which means that even if you have medical aid, you could be left with a large bill after a stay in hospital or an illness. Gap cover offers insurance that pays for some of the expenses medical aid doesn't. Here's how it works.
Gap cover is insurance that provides cover for expenses your medical aid doesn't pay in full
Gap cover is an insurance product and, depending on the cover taken, will cover the costs for treatment or care when medical aid only pays a portion.
So, you may have a medical procedure in a hospital that costs R18 000, and your medical aid covers R15 000. Your gap cover policy could then cover the R3 000 your medical aid doesn't. Which means you won't be out of pocket.
Who can take gap cover?
Anyone who is a member of a registered medical aid. You can check on the Council for Medical Schemes to see if your scheme is a registered medical aid.
You can take gap cover for yourself and for the dependants on your medical aid or another medical aid.
Some gap cover policies are only available to members of certain medical aids, some gap cover policies are available to members of any medical aid.
Is there an age limit?
No. Some gap cover insurance policies may impose a maximum entry age on some plans, usually 60 – 65 years, but other policies are open to any age. There are also some policies specifically for those over 65 years.
However, premiums depend on your age. Because older people typically have higher medical expenses, premiums for gap cover for the over 65s can be quite high. We looked at a few options and the GTC 2018 Gap Cover Survey, and found that in some cases a person over 65 years pays nearly double what a person younger than 65 pays.
How much does it cost?
Monthly premiums start at around R100 and can go up to R450+, depending on your age and how much cover you choose.
Is it worth it?
You want as few money worries as possible while you are dealing with healthcare challenges. For many of us, even a bill of a few thousand rand can be difficult to pay. Gap cover can take away this stress. So if you are worried about costs, and don't have lots of cash on hand to pay for medical expenses, it's worth considering gap cover.
Independent financial advisers and some healthcare professionals have said gap cover is necessary for medical aids that don't cover all costs, or all costs in full.
There are many different kinds of gap cover policies
This is where gap cover can get quite complicated because there are many different options available. For example, some policies only cover top up expenses for hospital visits. Others will offer top up cover for in and out of hospital costs.
Some gap cover policies cover the gap in full, while others cover the gap up to a percentage of the medical aid rate. So, for example you may have gap cover that will pay up to 400% of the medical aid rate. If your medical aid pays 200%, and your doctor charges 400%, you can claim the difference from your gap cover policy. But if your doctor charges 500% you won't be paid the difference in full because your gap cover policy only covers 400%.
Some gap cover policies will offer co-payment options where you can claim the amount your medical aid deems a co-payment. These are often for scopes and scans where you have to pay a few thousand rand and the medical aid pays the rest. But not all gap cover policies offer this.
Some gap covers also offer a hospital cash benefit, which is where you are paid a certain amount a day for the days you spend in hospital, say R500. These benefits are mostly available after spending a set number of days in hospital.
We've compiled a table below to show you some of the different policies and covers. You can use this table when deciding what gap cover is best for you.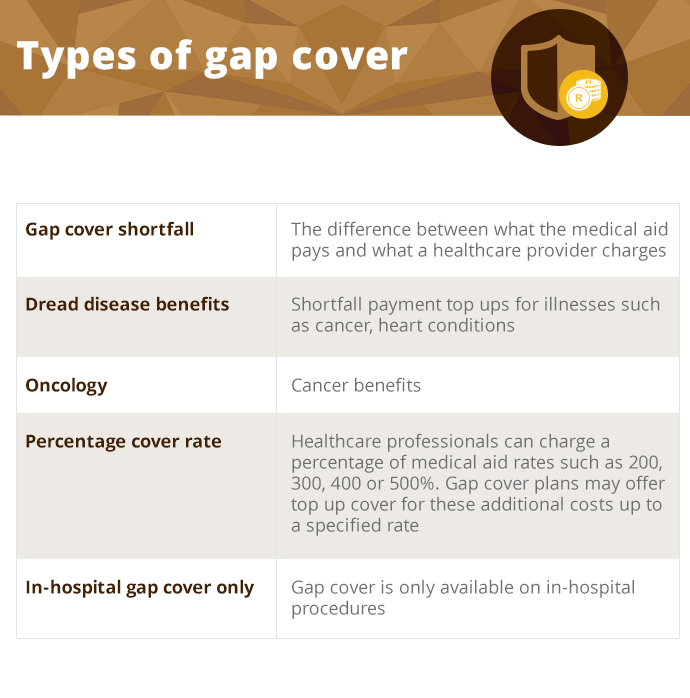 How do you decide which plan is for you?
You need to look at what your medical aid offers, work out where the shortfalls could be and find a gap cover policy that meets those needs. Because there are so many medical aid options and so many gap cover options, it is a good idea to chat to your financial advisor and get their advice.
Gap cover doesn't cover every medical cost
Gap cover doesn't cover costs for a procedure or care medical aid doesn't cover
So, if you elect to have cosmetic surgery or a scan or scope your medical aid doesn't cover, you cannot claim for any amount on your gap cover policy. Your policy may also exclude certain medical procedures, which will be listed in your policy.
Gap cover does not cover any PMB costs
PMBs are prescribed minimum benefits that medical aids must cover including treatment and care for conditions like diabetes and asthma, and emergency care if you are in an accident. By law medical aids must cover these costs in full, but they can specify where you are treated and the kind of treatment, such as drugs, you receive. Medical aids usually specify a designated service provider which is a hospital or doctor you must use for your PMB condition. If you don't use this service provider, medical aid does not have to pay the costs in full, neither does gap cover.
There may be waiting periods before you can claim
Gap cover policies can impose a general waiting period which is where you cannot claim benefits in the first three months.
They can also specify that an existing condition must have a 12-month waiting period, which means you won't be able to claim for 12 months.
There is a maximum benefit payable
Gap cover is a similar product to a hospital cash plan in that the amount you can claim in one year is limited to the amount stipulated in government regulations. In the case of gap cover, this is R165 000. So if you have a really high medical bill, say R500 000, and medical aid pays R250 000, your gap cover would pay a maximum of R165 000, so you would still have to pay in.
There may also be limits for certain procedures, such as R20 000 for dental implants.
How do you claim?
Some gap covers require you to submit an account, with the same details a medical aid requests such as ICD-10 codes, and they will assess the claim and, if approved, pay you directly.
However, if you have a medical aid with the same company as your gap cover, you can submit one account and your medical aid will pick up that you have gap cover.
The bottom line
Gap cover can give you peace of mind and reduce your risk of having a big medical bill that you can't afford. As always, know your options, do your homework, and make sure you opt for the plan that works best for you.